Statue hunt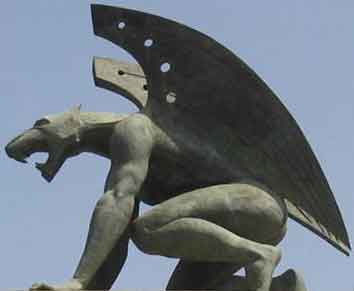 Can a good soul help me find where this statue can be found, and who made it? I've been told this shot was taken in Buenos Aeres, but that it can be seen in Europe as well. I find it particularly beautiful.
P.S. my French readers are more active, as always ;-). Thanks to Coremaker, this seems to be a gargoyle, the "Gárgola del Puente del Reino en Valencia" in Spain. Here are more pics: 1, 2.
P.S. 2 And KA writes that those are four statues decorating the Del Regne bridge in Valencia. They were designed by Salvador Monleón, the engineer who built the bridge.