One year
This weblog has one year today. Please pardon the following self-gratifying vacuities.
Padawan.info was launched on Dec. 7, 2002 and has since attracted 191,409 visits, 579,635 hits among which 217,084 pages and 110,508 downloads (mostly RSS feeds), representing 5.6 GB transmitted over the pipes. I am currently receiving, on a daily average, 1,265 visits, 1,267 pages views, 871 downloads representing 35 MB of data. I received a peak of 1,782 visits on 09/11/03, a very special date for me.
Over a year, I posted 487 entries on the English side which received 358 comments. That's 1.33 posts/day and 0.74 comment/post (come on, you can do better than that ;-). On the French side, started Aug. 7, I posted 105 entries and received 278 comments, which translates into 0.88 post/day and 2.6 comment/post). I reckon that my current pace is about one post per day on both weblogs, and the francophone audience is significantly more vocal (but my French weblog is also much more personal and political than the English one).
In terms of geographic distribution, 37% of the visits came from the US, 37% from France (some sort of balance, isn't it?), 3.2% from Canada, 2.5% from the UK, 2.2% from Switzerland, 1.6% from Australia, 1.5% from Germany, 1% from Belgium out of a total of 101 countries (the last one being Zimbabwe, with just one hit!). One anecdote: I have 46 IP ranges in my banned IP list for the English weblog, and zero for the French one. To date, I have received no comment spam on the French side of padawan.info (je croise les doigts !).
Known and likely robots accounted for 35% of the visits, 27% of hits and 34% of the data volume. 22.2% of the visits came from a Macintosh, 13.5% from Windows XP (22.5% from other flavors of Windows), about 3% from Linux (platforms figures are not normalized to take the robots out).
28,138 visits came from a Google search (trusting 84% of all search referrers). The twelve top search phrases overall were: padawan (easy guess!), google tricks (big raise on the past two days), applemusic, alpha male, constitution européenne (beware the é), slashdot rss, constitution europeenne, humour noir, flash text editor, constitution européenne, jean yanne, gandi. The top 12 from Google were: padawan, google tricks, slashdot rss, alpha male, applemusic, flash text editor, flash rich text editor, french paradox, frontpage 2003 (gasp!), microsoft connectix, linkedin, rich text editor.
My ten most read posts (in English) were:
Saying that this is not exactly my personal top 10 list is an understatement, but this is the tribute one has to pay to search engines, especially when one does not write with respect to search engines. However, two peculiarities of weblogs are the RSS feeds and the exposure each post gets on the home page, which do not allow to accurately track individual posts, so the figures above are, indeed, what matches popular searches on the Internet. It makes me think about ways to improve weblog stats.
The graphic below show the progression of pages/files/hits, visits/IPs, bandwidth on the past 12 months (you'll figure out the French):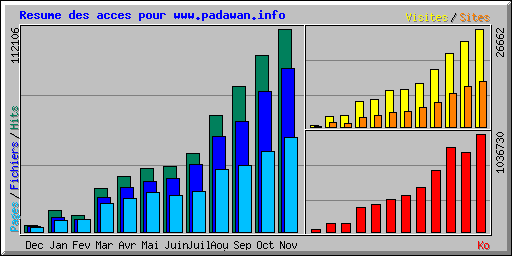 The steep and (allow me to dream one more month) continuous rise starting in August corresponds to the opening of my French weblog (which I reckon accounts currently for 42% of the RSS downloads and 49% of home page visits). Who said that to reach francophones, you'd better write in French?
My Egorati, as of today, shows 66 inbound blogs and 109 inbound links. Funnily enough, the equivalent measure from weblogues.com (francosphere) shows 172 inbound links from francophone weblogs. My GoogleRank shows 772 links (but many are internal to this site).
To put some beef behind the numbers, this experience has proved to be positive and fulfilling to me. I'm glad I have been able to sustain the pace for a year, and I hope I will be able to sustain it even longer. Some introspection has started, though, as I'm having some dissatisfaction about the present form and content. But that's part of the experience, isn't it?
Thanks (and I mean it) for your attention :-).