Google goes mashup
I got a little surprise when going to Google.com this morning: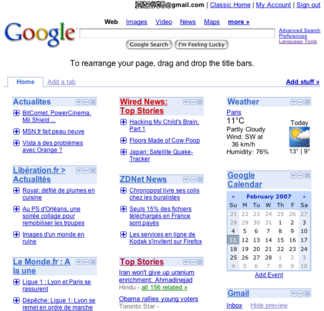 The legendary simplicity of Google's home page has been replaced by a mashup that you can easily configure. You can get the old home page back by clicking on "Classic Home". Google.fr still sports the simple search home page.
Netvibes (and al.) got a new competitor, just one of the 800-pound gorilla type. It's going to be hard for them because Google is going to provide more and more services besides search, news and other content feeds, and make it transparent and simple. One example is GMail, it took me just one click to add the GMail gadget, while on other mashups I would have to provide my login/password information. Another is Google Calendar, and you can bet that Google Documents, their online office suite, will find its way in there. Google will also provide this to entreprises, packaged in an appliance for use on their intranet. We'll be quickly moving from information-centric mashups to personal dashboards.