Some statistics for this blog in 2005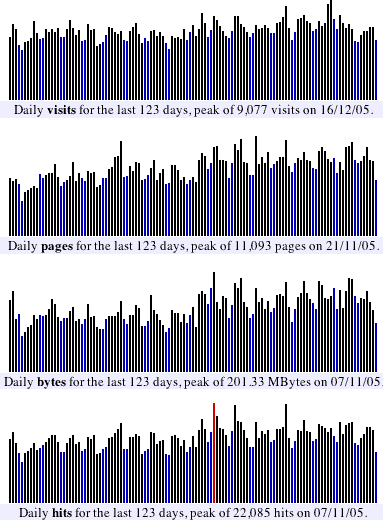 The above graphic shows visits, page views (excluding of RSS feeds), bandwidth and hits on this blog for the past 123 days (from Aug 31 to Dec 31, 2005). I couldn't do more this year because Google killed Urchin and left my host TextDrive in limbo, depriving thousands of customers from their stats. I resorted back to the excellent Summary to crunch the logs I could retrieve on the server from 2005. Anyway... Here are the main figures:
The audience has been growing well month after month, the best one being December 2005 with 266,713 pages, 489,106 hits, 44,802 unique hosts, 212,312 visits and 4.7GB of data served (from my two blogs aggregated). My English blog home page currently runs at 1,698 views/day and the French home page at 1,984 views/day and both aggregated attract a daily average of 6,371 visits, 14,633 hits, 7,666 page views, 3,021 downloads (mainly RSS feeds which currently run at a daily 1,776 hits for the French posts, 884 hits for the English posts and 302 hits for the linksblog).
Over the past 4 months of 2005:
- 41.2% of visits came from France, 37.3% from the USA, 2.44% from Canada, 2.32% from Belgium, 1.7% from Germany (top 5 on a total of 141 countries according to GeoIP).
- The OS split is (visits): 43.4% Windows XP, 20.2% Macintosh PPC, 10% Windows 2000 and 7.3% various Unices (6.9% Linux).
- The browser split is (visits): 16.2% MSIE 6.x, 15.4% Mozilla Firefox 1.x, 1% Safari. Safari RSS counts for 1.6%, NetNewsWire 2.x for 8.33%, NewsGator Online for 1.62% and SharpReader 1.41%.
- 157,493 unique IPs made 783,519 visits (583,410 one page visit). Known robots payed 167,131 visits (note that Summary includes RSS aggregators into robots, so it's not just search engines, Google visited 23,665 times while Yahoo! accounted for 99,437 visits and MSN only 3,153. NewsGator made 14,055 visits and Bloglines 10,500 visits).
- the top 10 search phrases are, in order: padawan, je t'aime, journée mondiale contre le sida, joyeux noel film, hi ive a new mail address, flash text editor, charme, gandi, tinymce, contrat de nouvelle embauche.
Today, i.e. exactly 3 years and one month after the launch of padawan.info, I have published 862 posts that gathered 1043 comments on my English blog, 1148 links on my English links blog, and 535 posts which received 2378 comments on my French blog. The ratio comments/post is still significantly higher on my French blog (4.4) than on my English one (1.2), up from respectively 2.6 and 0.74 comments/post in the first year respectively (so the conversations are improving on both blogs, but the fact that the French are more vocal and my French blog more personal and political than the English one still need to be factored in).
Quite some improvement compared to the stats from my first blogging year.
My CV has been downloaded 200 times in the past four months, but I'm not going to disclose how many job offers I've got in return :-P. However, and that will conclude this post, this blog has been a terrific networking tool and I'm amazed at the number and richness of the connections it allowed me to get (blogs do favor networking in meatspace real life). It landed me a book deal with the first professional editor in France (my book on business blogging, titled Blogueur d'entreprise, just got out yesterday!). Another key event in 2005 was when the entire top management of a certain company discovered that I had a blog, 2 years and 7 months after I started it :-P (it was part of my big experiment, and a very interesting moment indeed). For one more year, I can say that blogging is good for one's career.