Fluctuat nec mergitur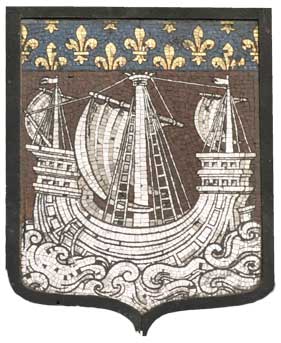 This is a detail of the emblem -- exactly its blazon (blason) or heraldry -- of the city of Paris that ornates the main door of the city hall. It embodies the city's motto: fluctuat nec mergitur, which means "fluctuates but does not sink".
The whole emblem is pictured on the right and includes a crown on the top, an oak branch on the left and a laurel branch on the right. I believe the ship has always been part of the many variations of the emblem over the centuries, which you can find all over the city (I think the city hall itself sports half a dozen different ones.)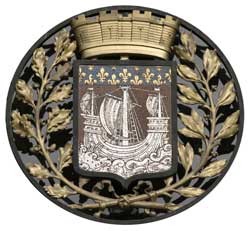 Paris has seen a strong commercial activity on the river la Seine since Tiberus, and the first sign of use of the common merchant ship as an emblem dates back to 1210. In the 13th century, by signing all sorts of public and private acts, the merchants transmitted their emblem to the city. The following drawing dates back to 1412 -- except for the three decorations below it which have been added in 1900 (Légion d'honneur, middle), 1919 (la Croix de guerre, right) and 1945 (la Croix de la Libération, left) -- and it is believed to have the most accurate version of what was the original ship of Paris.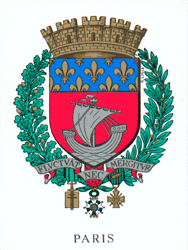 Now if you take a look at this site's icon (if your browser supports those), you'll find that it is a styled version of this ship. More precisely, it is a crop of the official logo of the city council.
[Source : les armoiries de la ville]