London May 12-13, in pictures
I'm terrible at reporting about events, so let's do it in images instead.
It starts with a badge: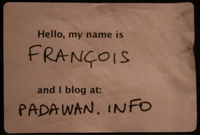 I got to see and talk to Gavin Bell, the mobile Andrew Anker and Heiko Hebig among a lot of other people. Corry Doctorow poured a damn cold hatred on San Francisco which he obviously hates (but, hey! I know a few people who hate Paris, I guess those cities can't let one indifferent anyway).
I got a personal drawing from Hugh McLeod: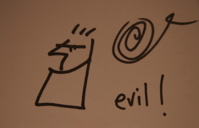 It tells you all about my fall to the dark side. I love it, thanks Hugh ;-).
Tom Coates revealed me where London's cheese temple hides: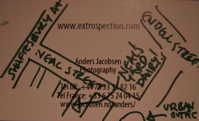 (on top of the personal card of Anders Jacobsen, blogosphere photographer and competitor in real life ;-)
From Neil's Yard Dairy, I brought a fabulous cheese called the stinking bishop, a stilton and one which name I don't recall. I tell you my friends, people who can make good cheese cannot be totally evil.
I always use the subway while in London:
Got to Hyde Park for a mystery meeting with reps from The Empire: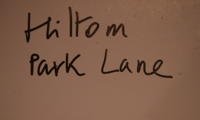 All of this was a great mix of business work and fun. It's good to see things in movement and excited people.